Community
Blackbird Studio has a very active community and is also very active within the community.
Donations 2015
Meiko's Cancer Battle- $850.00
SPCA- $6000.00
Woman's Opportunity Center-$300.00 and we collected a truck load of business attire ($5600.00 worth)for the center!  Way to support your community birdies.
We donated to the Woman's birthing unit at the hospital, several events at Cornell and supported a few families in Ithaca that needed some support as well.
Becoming more graceful… a mother-daughter story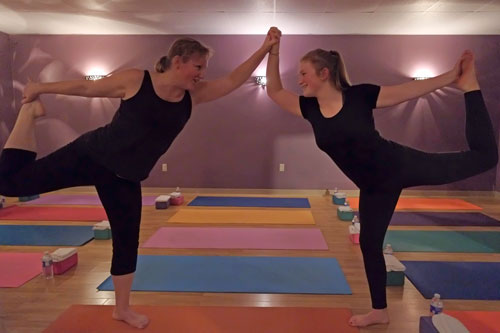 A 2013 New Year's resolution to become more graceful had me sending an email to Blackbird Studio to find out if the barre classes were dance based.  Tory wrote back "Try out EVERYTHING you can while you can!"  and so, I asked my daughter to go with me to the first class, and we were both hooked.  A mat, a barre, some purple weights and a stretchy band, and then one of the most challenging 60-minute experiences ever.  Zoe remembers having trouble walking and completing in everyday tasks (!!!) the next day, yet we were hooked. A little fire had ignited and we had to go back for more.  After several months of barre classes, we were curious to venture into the hot room for some yoga.  We met new teachers and learned new moves, and all of a sudden, we'd been attending BB for over a year.  As a mother-daughter team, we've taken barre and yoga classes three to four times regularly each week.  From the beginning, Tory has been both challenging and supportive, and in every class we take, we can see how much the instructors really care for their students.   We feel we're a part of an amazing community – and that community of strong, balanced women has helped us both grow physically and mentally and to develop strength and flexibility beyond our imaginations.  Karen is more graceful and is now in touch with her abdominal band — Zoe is even more flexible and can hold "Side Crow".  Blackbird has become such a big part of our lives and has influenced us daily.   There is truly something special about Blackbird and we are so glad to be a part of it.